Sorry this is late, but...
As you know yesterday was December 12, or better written as 12/12/12. With this unique date, I'll look back at some Cubs who have worn 12 on their back.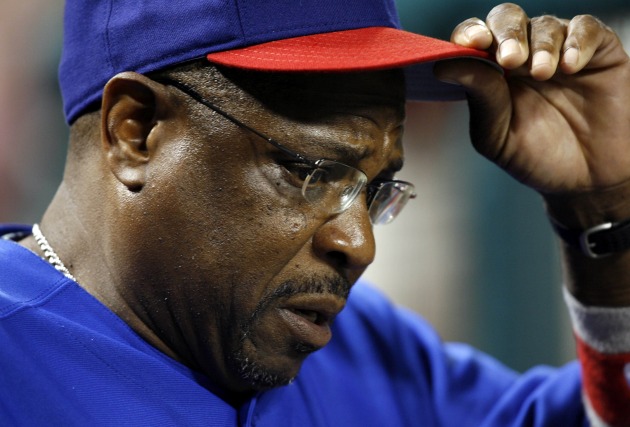 Dusty Baker
During his first year with the Cubs, he proved to be a huge success. He had a great team, but a large amount was thanks to Dusty. He led the team the 2003 NLCS where they fell short to the Marlins. I remember how excited my Mom was when she went down to Miami for those games, yet she came back devastated. Baker was able to coach some good players such as, Wood, Prior, Sosa and Moises Alou. Sadly, Baker was never able to take the Cubs to the playoffs again. In 2006 the Cubs added manager Lou Piniella, and Dusty headed off to Cincinnati where he has since done quite well. I would have liked to have kept Dusty around, but maybe it just wasn't right for the team. I am glad to see that he is doing well because he was such a nice guy. I had the privilege to "meet" him a couple a times. Once at a Cubs-Sox game at the cell, I had first row seats right next to the Cubs dugout. Dusty gave my siblings and I each a ball and was very friendly. Overall a great man.
Shawon Dunston
Right out of high school, he was selected number one by the Cubs in the 1982 draft. Dunston would spend three years in the minors before beating out Larry Bowa for his starting spot for the Cubs 1985 season. Shawon did not preform up to expectation and was sent back down. He came back later that season and stayed. He quickly became better and was named an All-Star with his buddy on the field, Ryne Sandberg, during the 1988 and 1990 seasons. Dunston put up good numbers in 1989, contributing to a division title. He remained with the Cubs up until the 1995 season. After that he joined San Francisco and a couple of teams after that. I am too young to have been able to remember Dunston play, however from what people say and the videos I have seen, his ability to perform double plays was quite unique.
Alfonso Soriano
Now, a current player. Soriano signed with the Cubs back in 2007, an eight year contract worth $136 million. During his first two season he got off to a slow start, and injured himself in 2007. He would come back and help the Cubs win their division in '07 and '08. The following season was extremely productive for Fonzie. He started the season off by belting a homer on the first at bat. Soriano did well before undergoing surgery later in the year. In years to follow his statistics dropped at the plate and in the field. However, this past year his fielding increased dramatically. Throughout his career he has been named an All-Star seven times, won a Silver Slugger four times, and won a title twice. I know that there are a lot of Cubs fans that dislike Soriano, however I cannot find myself in that position. Sure, there are plenty of times where the guy gets me ticked off but I think he does his job. However, I am not even going to get started on what the Cubs pay him. This past season Soriano stepped up and improved his game, which hopefully he can continue to do, if he stays with the Cubs that is.
Thee number 12 has seen some good moments, but more importantly some good people to wear it on their backs.