It was a sad moment for Cubs fans last season when talk of Dempster being traded started to arise. Fans became ever sadder when they found out he was for sure off to Texas.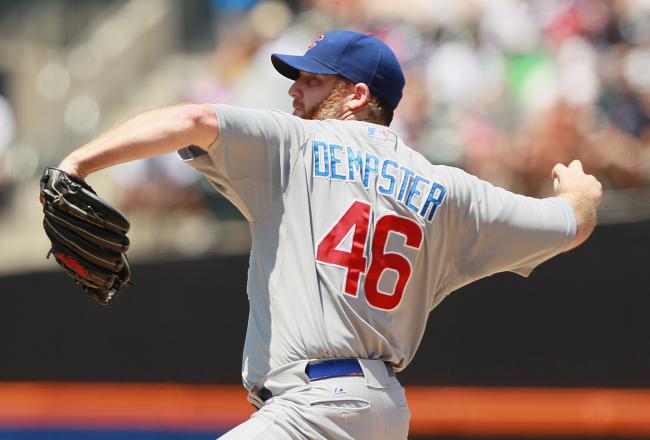 At the time of the trade, many analysts speculated that Ryan, the 35 year old pitcher, could possibly return to the Cubs this season, which makes a lot of sense. The Rangers were in need of someone who could throw the ball, and Dempster was not truly needed here in Chicago because our season was not going anywhere. It would be a win-win situation for the Cubs. We trade Dempster for some decent prospects, and then after the season, pick back up from free agency. Plus, we were giving him to win a ring with a team that had a chance.
Well anyhow, Ryan Dempster will be wearing red and blue next season, just not for the Cubs. He has signed a deal with the Red Sox for $26.5 million over two years.
Ryan is one of the guys I wish we could get back. He is one of the absolute nicest players you will ever meet. He always
has
makes
time for his fans. A few years ago I was at the Cubs Convention, where at the very beginning is a large presentation of the attendees and new players. Dempster walked out carrying his baby in his arms, and signed for every fan that was there. I forgot to mention that his baby was crying, not the happiest thing around. He signed and signed as he tried to calm his child. Any player that is willing to do that cares about his fans.
Dempster will be continued to be missed by me, and I am sure by Cubs fans everywhere.